NEVILLE – AWB BETTER THAN ARNOLD DEFENSIVELY
Submitted on Wed, 05/20/2020 - 06:47
Manchester United legend Gary Neville has stated that Old Trafford star Aaron Wan-Bissaka is better than the much touted Liverpool fullback Trent Alexander-Arnold, albeit defensively. Neville opines that overall Trent is still the best attacking fullback since the legendary Cafu of Brazil.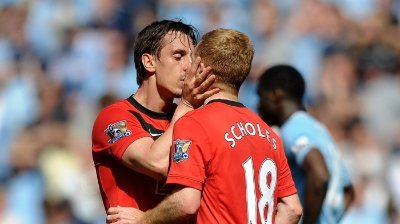 The 21-year old is regularly in conversation for current best fullback in the world due to his outstanding performances for Liverpool. In his 125 games for the Reds, he has contributed six goals and 34 assists in all competitions. He was very influential as Liverpool coasted to Champions League victory last season, their second final in two years. Liverpool are on the verge of their first Premier League title this term, where Trent has broken the record for most assists by a defender with 12.
With competition from Wan-Bissaka, the experienced Kyle Walker– who plies his trade with Manchester City–, Kieran Tripper – who moved to the La Liga following a good run at Spurs, Trent is hoping to get the nod in the England setup.
Neville feels Trent is the better attacking player while Wan-Bissaka is preferable to provide defense cover for the team. His choice of naming Trent the best fullback since Cafu was met with resistance by fans who mentioned players like Real Madrid's Marcelo and Barcelona's Dani Alves – who has won most trophies in football.
United ex defender Rafael da Silva hints that Trent has not surpaased Neville himself yet. He asks that Trent keeps playing well so he can surpass Neville. While the young man has been brilliant, people want him to remain consistent for a few years and develop defensively so he can reach his potential. Already, he has made a brilliant start and could reach legendary status sooner than later.
Need More?